JoStudy knows well the importance of living an experience abroad, both for children and teenegers: it is in view of their professional future and personal fulfillment, through a learning and cultural full immersion, experiencing values such as openness, creativity, courage. It means making new friends, sharing ideas and customs, visiting together new places, the landmarks of important cities in the world. A study holiday is an excellent tool for personal growth and independence, always in a safe, exiting and supervised environment.
JoStudy has inherited the experience of its mother company – one of the best Italian tour operators, with 15 years of operating and over 30.000 students travelling all over the world. In less than 2 years, JoStudy has increasingly grown, having now 3 offices and acquiring also a language school in the UK. JoStudy never stops: always in partnership with other accredited schools, with a choice of accommodation in famous cities in three different countries.
OUR SCHOOL - THE HEART OF ENGLAND by JoStudy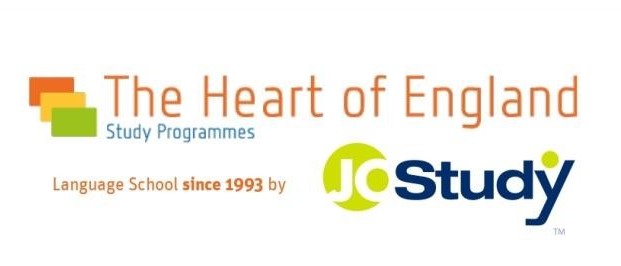 The Heart of England Study Programmes is a small and friendly ABLS ACCREDITED language school, operating since 1993 in Leamington Spa, which is an elegant and safe Regency town in Warwickshire. Leamington Spa is a typical British town, close to Birmingham and not far from London, England's capital. It is a great place to live and study and has access to the most important cities in the UK with great transport connections.
Having historical roots is important as well as being open to new ideas: that is why The Heart of England Study Programmes has recently been acquired by JoStudy. Jostudy aims at increasing renovation and growth, always working to provide the best for our clients.
Here below, just few reasons to not miss the opportunity to become part of Our School family!
Operating since 1993, in a peaceful and safe town,

on the basis of good quality, providing a high level of teaching staff and supporting our students during their whole stay in the UK.

The land of Shakespeare: o

ur school is not just in a

central location in the UK

: we live in the area where William Shakespeare, the greatest contributor to the English language, was born. At the Heart of England Study Programmes, you can combine culture with Warwickshire's great outdoors!

International students:

 we have a very good mix of nationalities, the best way to make friends from all over the world!

We offer a great choice:

 thematic programs, language course, and much more: you can experience that staying in a HOMESTAY FAMILY or in one of our RESIDENCES.

The Heart of England Study Programmes becomes a Language Cert approved test centre! 

Our school The Heart of England Study Programmes will offer high-quality assessment and certifications to the global learners' community.